This extension is enabled by default on Fandom.
This help page references the classic editor. Note that the VisualEditor may behave differently.
Videos are a great way to showcase information and keep readers engaged on your community! The video embed tool makes it possible to quickly and easily add videos to an article page.
Videos can also be included in galleries and most other locations where images are supported. Videos that are under 400px wide will play in the media lightbox.
Step-by-step
Note: If you are using VisualEditor, see Help:Videos for instructions.
Click the "Video" icon, which can be found in the Add features and media module on the right side of the screen. In the classic editor's source mode, it can also be found in the toolbar.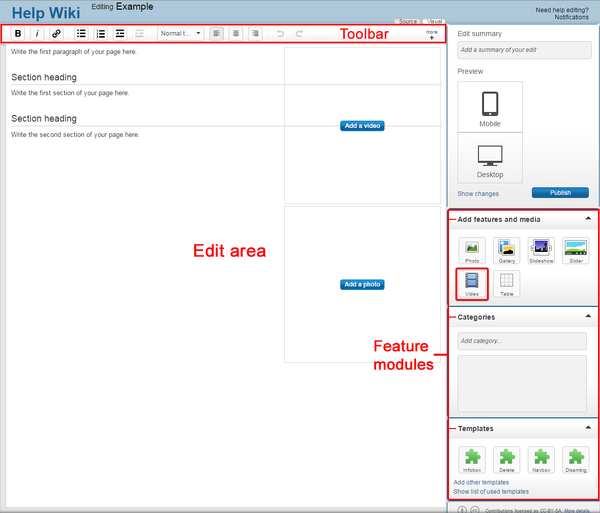 A pop-up box will appear and allow you to paste in the full URL for the video you wish to add. For example:
https://www.youtube.com/watch?v=woCCj9ADup4
Once you have chosen a video, click "Next". This will provide options where you can customize how the video is displayed, as well as choose a different file name if you want.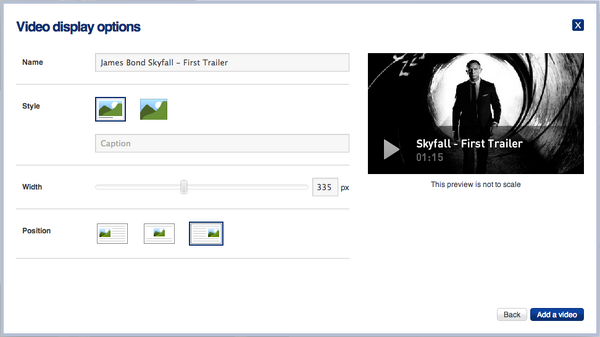 When you are happy with the options, click "Add a video". The video will become a file in the wiki and will be inserted onto the page you are editing.
Since the video now exists in the wiki as a file, it can be reused around the wiki as many times as you like.
Supported sites
Videos can be embedded from selected internet video providers:
See also
Further help and feedback
Community content is available under
CC-BY-SA
unless otherwise noted.